We are often asked by customers:
"Constant current sources or constant voltage sources? Where is the difference?"
Up to now one had always oriented oneself to voltage. 12V or 24V DC voltage and the current depends on the consumption. The constant current power supply unit must be powerful enough to guarantee the operating voltage that is then reached..
Now, however, with the LED as a light source, a consumer is no longer connected that can be uncritically operated at a constant voltage, such as from a battery. Small voltage differences only lead to small fluctuations in power consumption.
Constant current sources due to LED characteristic curve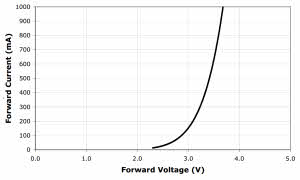 LEDs, on the other hand, have a completely different behavior. Their characteristic curve already causes large current changes with small voltage fluctuations. See sketch on the right.
Even if it is possible to keep the voltage exactly at e. g. 3. 3V constant to obtain a diode current of approx. 350mA, the operation is not stable. The characteristic curve changes continuously depending on the operating temperature and ageing and scatters from diode to diode. Safe operation is not possible and thermal destruction with small fluctuations is quickly possible.
For this reason, constant current sources, so-called LED drivers are used. These drive a defined and therefore constant current through the LEDs. The voltage measured on the LED may fluctuate. Reliable operation of LEDs is thus ensured by these constant current sources also called constant current drivers.
Common current intensities for LEDs are:
Well-known LED from the craft box: approx. 10mA (mostly realized by a series resistor)
Low power LEDs are around 100mA
The power LEDs with sufficient cooling have started with 350mA and now work with currents of 1A or more.
LED arrays or COB, which are operated with constant current sources of more than 1 ampere, are popular.
Watch out. There are LED light sources, such as GU5.3 (MR16 LED spotlight) or LED modules, which already have a built-in constant current driver. These are operated conventionally with constant voltage.
Links to further information we have put together here: