DMX Controller, DMX 512 4-channel decoder
RGBW + converter, RGBX 5-24VDC common positive
This DMX 4-channel decoder is matched to the new LED RGBW 4 channel technology. The input signal is a standard DMX512. Optionally also available XLR, RJ45 or terminal connections available.
The DMX controller is dimmable in 256 steps.
The DMX address can be set via dip switch 1-9 from 0 to 511.
Example:
To set the address to 37, set switch 1,3 and 6 (1 + 4 + 32) to ON.
The decoder then uses the addresses 37, 38, 39 and 40 consecutively on RGBW output.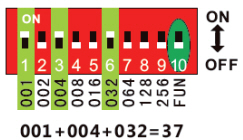 In addition, the DMX Controller 512 has a test function.
Technical Data:
| | |
| --- | --- |
| Input voltage: | 5-24V DC |
| Output voltage: | 4 Kanäle x 6A max. |
| Input signal: | DMX512 |
| Output signal: | 4CH PWM constant voltage, common + |
| Channels: | four: R- / G- / B- / W- / COM+ |
| Dimming range: | 256 levels |
| DMX512 Connection: | DMX512 input and output for DMX signals alternatively XLR, RJ45 or terminal connections |
| Output power: | 120W @ 5Vdc max. / 288W @ 12Vdc max. / 576W @ 24Vdc max. |
| Temperature range: | -20 to +55°C |
| Dimensions (LxWxH) in mm: | 166 x 67 x 41 |