Spectrophotometer
Mobile Spectrophotometer
are also known as: lighspectrometer, photospectrometer or in general spectrometer. By a spectral analysis of light rays through prisms or refractions at the grid with downstreamed light sensitive arrays (photodiodes), it is possible to measure the intensity of light as a function of the wave length.
From this data it is possible to determine extensive light-technical parameters by the respective mathematical algorithms. This way the color rendering index can be measured, as well as the color temperature and many many more values. This makes these innovative light meters more than just a CCT-meter or luxmeter.
Smart devices like an iPhone or an iPad with iOS operating system, but also Android devices nowadays have enough computing power to perform these arithmetic operations in real time. Additionally they also have a high quality display.
So what could be better than using these functions for a spectrophotometer.
For the smart spectrophotometer an additional sensor is needed that performs the physical implementation and transfers the individual readings via Bluetooth to the smartphone. There you just have to install the right App from the App- or Playstore and you are ready to go with the spectrophotometer out of your jacket.
Smart Spectrophotometer – More than just a CCT-Meter
Smartphone + spectrophotometer sensor (Lighting Passport) = smartphone spectrophotometer.
But for the operation of the sensor, you don't necessarily need a smartphone. Every new modern Android or iOS smart device like Tablets or iPods are enough. But they have to support Bluetooth 4.0 (low energy).
Most people use their smartphone thought since it's easily available.
Solely the App Spectrum Genius Studio needs an iPad for the convenient evaluation of the TLCI additionally to the spectrophotometer sensor. All other Apps are independent from the used device.
Meanwhile there are versatile apps available for the spectrophotometer:
SGM/SGE for general light-technical spectrophotometric measurements
SGAL – Plant light metering with the spectrophotometer in photon stream density, measuring of PAR-values
SGS – Especially for the film industry with special evaluation of TLCI
SGT – You can quickly measure the translucency of e.g. PMMA-panes dependent on the wave length
Due to the comprehensive available applications, the spectrophotometer sensor lighting passport is an all-round talent and at the same time inexpensive with its outstanding price-performance ratio.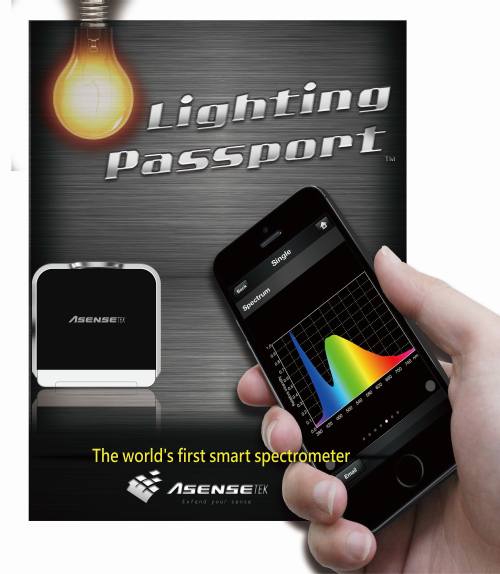 Today, with the view of 2015 as the "Year of Light" the quality evaluation of light becomes more and more important. Respectively especially this "smart" solution of a spectrophotometer is adopted with enthusiasm by the market.