LED Driver Constant Current Source
Constant Current Source(s)
Alternative name is LED driver CC => Constant Current
A Constant Current Source is an operating unit for LED modules or LEDs, especially power LEDs.
We offer a variety of universal LED Constant Current Sources, many of them are easily programmable via dipswitch.
Function to control via DALI, 1..10V, push button and phase angle control or trailing edge control (Triac, MosFET) are especially popular.
There is a right Constant Current Source for everyone.
We are often asked by customers:
"Constant Current Source or Constant Voltage Source?"
Until recently, the main orientation aspect was the voltage. 12V or 24V DC voltage and the current depends on the usage. The power supply unit has to be sufficiently powerful. But now, with the LED as illuminant, we do not anymore connect a load that can be run with constant voltage, e.g. from a battery. Small variations in the voltage result in small changes of the current level.
Constant Current Sources due to LED characteristic curve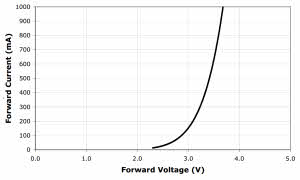 LEDs, on the other hand, behave very differently. Their characteristic curve already registers large changes in current for small changes in voltage.
See sketch on the right.
The operation is even unstable if one manages to keep the voltage constant at e.g. 3.3V and maintain a diode current of approx. 350mA. The characteristic curve constantly changes depending on the operating temperature and alternation and scatters from diode to diode. Secure operation is not possible and thermic destruction can occur even with small fluctuations.
Therefore, Constant Current Sources, or LED Drivers, are used. They send a defined and constant current through the LEDs. The voltage measured on the LED is allowed to fluctuate. This ensures reliable operation of the LEDs.
Usual currents for LEDs:
LED from the toolbox: approx. 10mA (mostly realised with a series resistor)
Low Power LEDs around 100mA
Power LEDs with sufficient cooling started with 350mA and now also work with a current of 1A or more.
LED arrays or COB are also popular, these are run with over 1A via Constant Current Sources.
Attention. There are LED illuminants, like GU5.3 (MR16 LED radiator) or LED modules that already have an integrated Constant Current Source. They are run conventionally via constant voltage.
Links for more information: